Email Marketing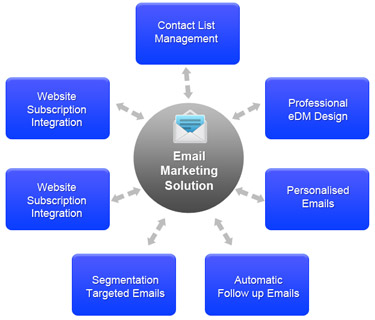 NextGen eBiz Solutions, Australia is a company out of Sydney that offers online marketing strategies that can be customized for your business. Email marketing uses email messages to communicate directly with your customer base by sending messages about upcoming events, fundraising, new products or any other information relevant to your business.
Businesses find this to be an ideal way to communicate with their customer base because it is instant, and can easily be tracked to see which customers are accessing and using your messages and which are passing them by, making it easy to streamline your content and personalize it for your readership base. Our email marketing solutions can help you make contact with clients in Australia and worldwide in a way that makes it easy to track and gain the kind of response base you need to customize other marketing strategies you are implementing.
Our email marketing solutions focus on contact list management that allows you to keep track of who you are sending messages to at a quick glance. You may want to set up different contact lists based on how these individuals relate to your business. This will help you create segmentation or targeted emails rather than sending out one generic message to all of your contacts that may not be appropriate for the relationship you have formed with these people.
Our email marketing specialists can help you create a professional looking eDM design so that your emails always look professional and well thought out. We can help you create personalized emails that sound as though they were created for each individual that you send them to, rather than creating one generic message that comes off as spam emails. You can also create automatic follow up emails for a variety of situations to ensure that you never miss a vital connection point that can help keep your business relationship with these clients strong.
Emails can be designed to include website subscription integration, which includes a link back to your page so it is easy to sign up and get further involved with your business. The online marketing strategist you are working with understands that your ultimate goal with email communication is to create more customers and make it easier to keep in touch with these people, and we want to provide you with all the necessary tools to do just that.
You don't want to pay for marketing tools that are ineffective. This is why all of our email marketing solutions include campaign tracking and reporting so that you can easily see which campaigns are being opened, read and responded to. This will allow you to focus your attention on these campaigns rather than using all of your energy on a variety of tactics that may or may not be increasing your business for all the effort that you are spending on them.
Whether you have a few ideas regarding the services you need or you are hoping to get some advice on how to get started, NextGen eBiz Solution is ready to help you. We offer free initial consulting to help you get started with our programs so you can get a feel for our business and what we have to offer before you are required to make a commitment. We look forward to discussing your email marketing strategy and helping you get started with your campaign.


Related Services by NextGen eBiz Solutions, Australia