What is Search Engine Optimisation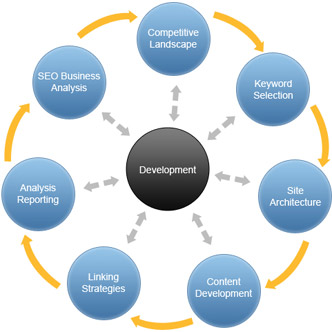 Having a website is not enough if you are looking at increasing your brand awareness and expanding your business through internet. Getting relevant visitors that can be your potential customers is the challenge. Our search engine optimisation services can help improve your search engine ranking.
If you want to make your presence felt online, then search engine should be an integral part of your online marketing strategy.
Search engine optimisation (SEO) can help improve the visibility of your website on the World Wide Web through higher ranking on the search engine results.
By being visible in major search engine results like Google, Yahoo and MSN your website will potentially generate more Quality traffic that can translate into a lead or sale. We achieve this by using natural or organic methodologies and algorithms that take your search engine rankings to the top. Not only does search engine sation help you improve your online visibility but is also a great tool for reputation management.
Your business thrives on your visibility and search engine optimisation is the best way to help people find you on search engines. It can boost the traffic inflow, sales and hence, the return on investment of your website.
Why does your website need optimisation?
Not many people who use search engines go beyond the first page of search results, so if your website is not there, then you are losing out on traffic that can get you more sales. Search engine Optimisation helps you find your place on the first page and hence, gets you visibility, traffic and greater business opportunities.
What do you gain from search engine optimisation?
The benefits of getting your website optimised for search engines are innumerable. Our team of experts use various methodologies to help your website fetch more traffic. Not only do we ensure that your website gets more traffic, we ensure that it gets only good quality traffic. Once your website achieves a higher search engine result ranking and starts getting more traffic then the benefits of SEO start to accrue. The increased traffic definitely means better visibility, higher brand awareness and in turn higher sales. Not only this, search engine optimisation ensures that your website stays ahead of competition always.
How is search engine optimisation achieved?
At Nextgen ebiz solutions, we follow a two-pronged approach to optimise your website for search engines. We start the process of SEO with a Pre SEO analysis. This phase encompasses all the research activities that we carry out before we set out on mission SEO. It involves carrying out the analysis of the website with regards to the keywords that people use to search for the website on the World Wide Web. Then we work out the most relevant keywords that can bring higher page rankings. We then provide you with a comprehensive website analysis report that contains our observations and recommendations.
After this, the website is optimised with a focus on the relevant keywords; the entire content of your website is designed around the selected keywords. Apart from the website content, various keyword rich blogs and articles are also developed. Another important aspect of search engine optimisation is link building, which ensures that there are many websites that link to your website thereby increasing your link popularity. This has a favourable impact on the website's rankings.
Search engine optimisation is an unending process; it requires regular follow up and reporting.

We apply all SEO strategies but with a difference and clear focus on ROI
* Search Engine Optimization
* On-page optimization
* Keyword optimization
* Competitor Analysis
* Search Engine Marketing
* Link Building Services
* Directory Submission
* Regional Directory Submission
* Guaranteed Directory Listing
* High PR Directory Submission
* Online Press Release
* Deep Link Submission
* Article Submission
* Social Bookmarking Services
* Social Media Marketing / Networking
* Press Release Submission
* Search Engine Submission
* Video Submission
* RSS Feed Submission
* Blogging / Blog Submission
* Google Indexing
* DMOZ Listing
* and many other methods…