Social Media Marketing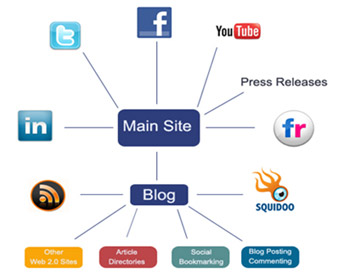 Humans used to interact mainly face-to-face, over the phone or postal mail and until recent times by Email!

Social Media has changed it all. Today human interaction is mainly through digital media or we can say Facebook, Twitter, LinkedIn and numerous other social media tools.

Today promoting your business through Social media can be one of the most effective online marketing strategy to help generate leads in a most effective and efficient way. Today Social media is one of the most widely used platforms for social interaction irrespective of where you are in the world and can help spread the message like wild fire.

We understand that social media is the biggest revolution to hit the online space in 21st Century. With around 800 million people using Facebook alone and millions of others who use other social media tools like LinkedIn, Twitter, YouTube, Flickr, Squidoo and numerous other social networking sites, the power of social media cannot be underestimated.

Although all of us may use social media as a tool to socialise, interact and collaborate with people, but developing a good following and converting your followers into a customer base requires expertise. This is where NextGen eBiz step in to bridge the gaps.

NextGen ebiz is a leading provider of social media marketing solutions in Australia. We offer integrated social media marketing strategies and comprehensive programmes tailored around the needs of individual clients. Our social media experts help you unlock the power of social media and open the doors to the largest possible audience for your communication initiatives. We ensure that your social media messages reach not only to a large audience, but to we also ensure that it reaches to the right kind of audience that has the potential to convert into genuine business opportunities. Unlike other online marketing initiatives where you strive to get people to visit your website or read your communication, some social media marketing tools like Facebook advertising take your communication straight to the screens of your potential customers.

At NextGen ebiz, we use this kind of advertising to help our customers reach out to a customer segment that is most likely to be interested in your communication. In short, our social media marketing solutions are aimed at making use of the viral nature of the social media like Facebook, Twitter and Flickr. We help you bring down your advertising costs significantly by making use of much effective social media tools that offer great results at minimal costs.

We follow a holistic approach while creating a social media portfolio for our clients, right from communicating through blog posts, social bookmarking, web 2.0 strategies, to constantly engaging with followers or fans on social networking sites like Facebook and Twitter. Article submission is also an important part of our comprehensive social media marketing programmes where we create and submit articles to directories that may be of interest to your targeted audience. Our social media marketing services are focussed on the following aspects.
Generating a targeted fan following: Our social media marketing strategies are aimed at creating a fan following that not only reads the communication, but has the capacity to turn into viable business opportunities.

Designing strategies to convert fans into clients: We understand that all initiatives are futile until the efforts start to pay off in terms of real business. Our conversion strategies help you convert your fan following into paying clients.

Providing a tailored and comprehensive program: At NextGen ebiz, we create social media marketing programs that leverage all important social media platforms.

Brand Management: While designing social media marketing programs, we ensure that the communication is in line with your brand image.

Reputation Management: Our strategies can help you create a great online reputation and can help manage any negative feedback.

At NextGen ebiz, we are committed to help you increase your business and rise above the competition using effective social media marketing strategies.