What Is Online Marketing and Why Do You need It?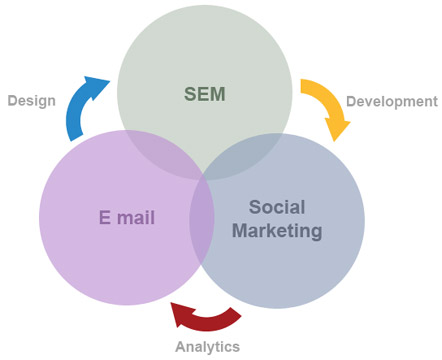 If you want to grow your online business, Next Gen eBiz out of Sydney, Australia can help. Our company combines traditional marketing techniques with cost effective online marketing strategy to help you better reach your customers in a variety of methods. The key to online marketing is remaining in contact with the customers you already have as well as using marketing techniques to help draw in new customers. We can help you create a marketing plan that is clearly laid out to help you keep track of how your business model should function.
NextGen eBiz Solutions has over 12 years of experience in the field of development and promotion in online marketing. We do not just offer basic ideas that can be applied generally to any business. Instead, we pair you with an online marketing strategist that will create a personalized plan for your business and its needs. Tell us your key business objectives, your budget and the key audience you are trying to reach and we will tell you what marketing methods will help you do this in the most effective way possible.
Like most online marketing companies, we take ample advantage of search engine optimization techniques to help your business's web page appear more frequently with search engine results. All of our SEO techniques are matched against the Google AdWords campaign so you can guarantee that your content will match what customers in your field are working in. Working closely with Google also helps ensure that your webpage will not be flagged for spam content and will not be penalized for using keywords in a way that does not match current industry standards.
NextGen eBiz Solutions understands that there is more to marketing than focusing on search engine marketing and we want to help you create a versatile marketing campaign that will help you keep in touch with your customers throughout every step of your business relationship. We provide online visitor behavior analysis and evaluation through Google analytics which can help you learn about what portions of your website are being utilized and which are not getting the attention they deserve. The more you know about how your customers interact with your webpage and your other advertising venues, the easier it will be to adjust your marketing campaign to put more focus on the campaigns which are successful and let go of those that are wasting resources.
Once you have drawn in the customers, you can work with our email marketing specialists to help keep track of communications with your business contacts. We can help you create customized messages that are unique to the different customer bases you communicate with. This will help you organize your contacts so you are not spamming your entire email list every time you have a message but sending genuine communication that can be utilized by your customer base. Our specialists can both assist you in creating a personalized newsletter campaign and teach you the proper ways to manage and monitor its success.
NextGen eBiz Solutions also offers social medial marketing specialists that can help you create a helpful online campaign that allow for instant communication with your contacts. We specialize in Facebook and Twitter, two of the most widely used social media sites in the world. These sites are free to use and offer a clean and easy way to keep in contact with your customers more frequently than ever before. Our specialists can help you learn how to utilize this new technology in a way that allows for quality advertising that will catch reader's attention without becoming overwhelming or sounding too much like a campaign.
To help you get started, we offer free initial consulting on any venture that you would like to create. You can meet with our specialists and go over your needs. If you are not sure where to get started, we can give you a few ideas as to how you can narrow down your business campaign and streamline your efforts into a clear, concise marketing campaign that will allow you to focus your energy and your resources effectively. Our business wants to help the businesses of Sydney increase their reach and business marketing online is the key tool to making this strong growth happen.
For more information on how we can help achieve your business objectives… Contact Us.